The year 2011, in travel
While 2010 new year weekend had a disastrous start with a miscalculated and unsuccessful trip to Raigad fort and the Pune zoo the following day, 2011 new year weekend was exactly the opposite. We went to Daman and Silvassa for a 3-day weekend and it was a great mix of lot of stuff – beaches, forts, water sports and even a lion safari!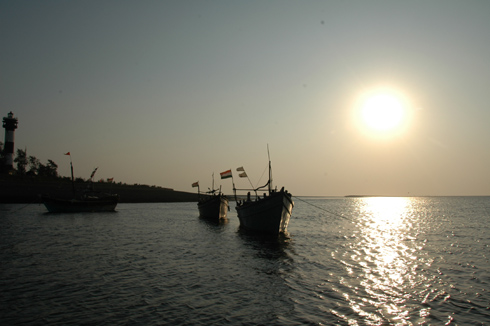 Then, we went to Pataleshwar Cave Temple and Ayappan hill temple near Dehu Road. These two were on the radar for quite some time as we had passed these two temples en-route to many other places.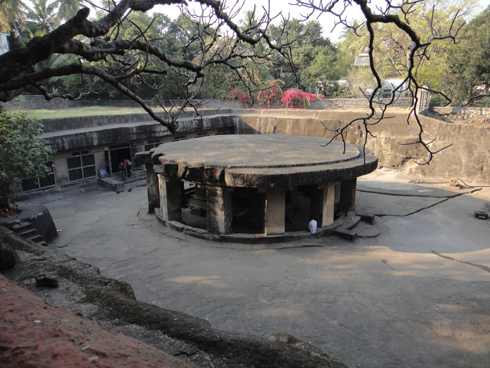 The first big trip of 2011 was a weekend trip to Murud. This set a nice precedent for 2 more trips to the Konkan region over the year. The murud trip had many beach visits including Murud beach, Kashid beach, Aakshi beach and the imposing Janjira sea fort (post pending!).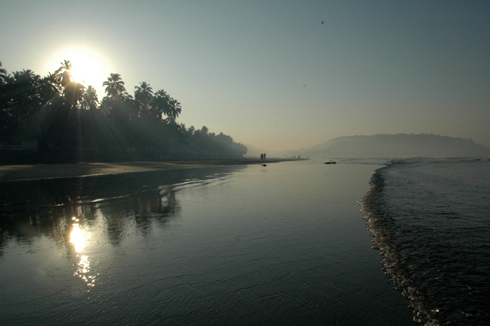 The next Konkan trip happened soon after, with a 3 day trip to Diveagar and Harihareshwar. The Diveagar beach is one of the best on the coast (among the one closer to Mumbai/Pune) and the coastal drive from Diveagar to Shrivardhan is too beautiful to be described!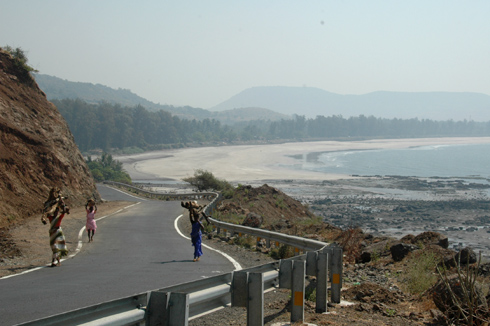 In March, i went on a trek to Tikona fort along with colleagues. We started pretty early in the morning and it was a good decision as it got very hot by around 10. The trek to tikona fort is moderate, but offers wonderful views of the surrounding areas including Lohagad fort and Pavana Dam. Also, the final ascent on the stairs is wonderful.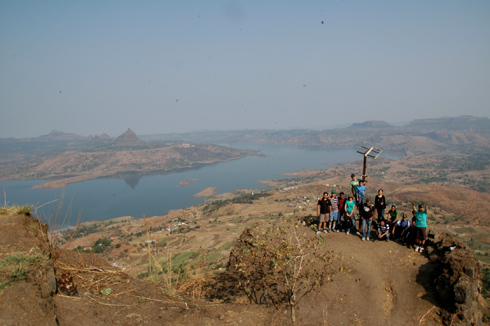 Then, we had a get-together of friends at Splendour Country club. This was my second visit to the place (post pending!) and it is quite a mixed bag. The condition/cleanliness of the infinity pool depends on your luck, but the location is awesome.
There was a weekend when Vidhya and Akshara were out of town. So, i went on a local sightseeing trip to places which Vidhya might not come along. I went to Shinde Chhatri – architecturally good , bur was undergoing renovation, a butterfly park about which the lesser said the better and then to Chaturshringi Hill Temple, a gem of a place within the crowd of the city(posts due!).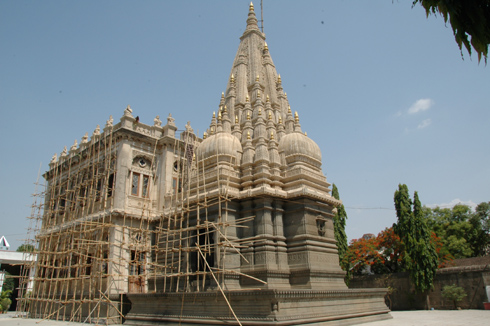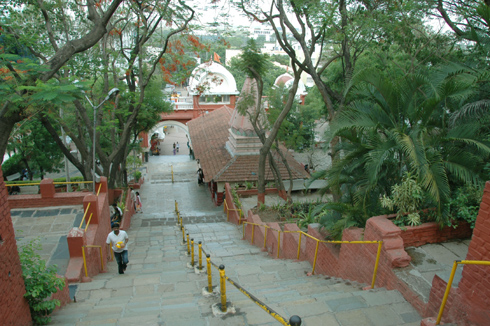 Saturday was gone and i went for something more adventurous on the Sunday – a trek to Kalavantin Durg (post due!). This turned out to be most exhausting day of my life. But, not because of the nature of the trek. It is an awesome trek and the final climb on the rock-cut steps (some more than a metre high) is mind-blowing, particularly for the slightly-acrophobic ones like me!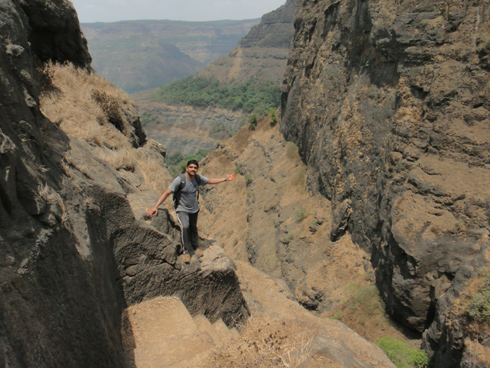 The monsoon had arrived and it was time to go-green! Our first monsoon trip was to the ever-enchanting Neelkanteshwar temple. If you have never been there, make sure you do (not in the summer though). A place straight out of Amar Chitra Katha, you can not only admire the natural beauty of its location, but also learn a lot about indian mythology.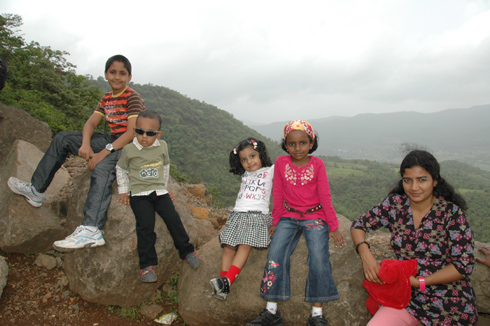 Though very scenic, i try to avoid lonavala and its surroundings during the monsoon as it gets very crowded and insane. A trip to Korigad fort where i had pass through Lonavala reaffirmed my faith in avoiding the place. Korigad fort though was a revelation. Relatively easy to climb and in midst of nature, it was a wonderful trip with friends.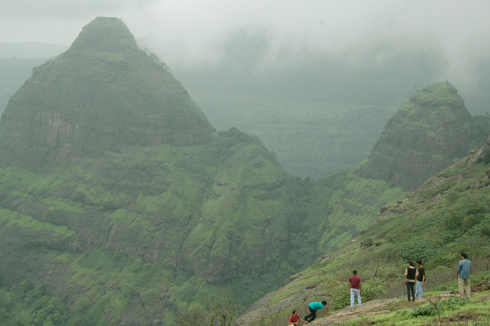 No monsoon is complete without a visit to Tamhini Ghat and thoseghar waterfalls. I have been so many times to these places and yet, i am not tired of them. The visit to tamhini was, as always, combined with a visit to the broken roads of Chalkewadi windmill farms.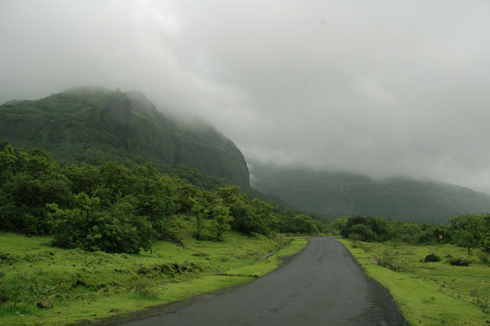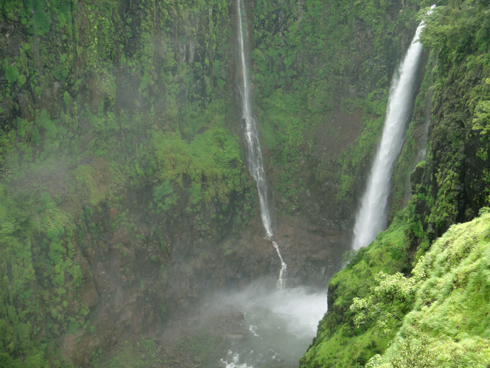 Then came a visit a beautiful temple in a beautiful place – hadshi temple. One photo of this temple on some forum convinced me to pay a visit and i wasn't disappointed and neither have been all the people to whom i have recommended this temple. I have been there twice, once during the monsoon and another time just after – on a clear and sunny day.
We tried yet again on 15th August to go to Raigad fort, but our calculations proved wrong once again with a 3.5 hr wait for the cable car. So, we had to return (for the second time) with just a view of the cable car and the mighty fort beyond the horizon.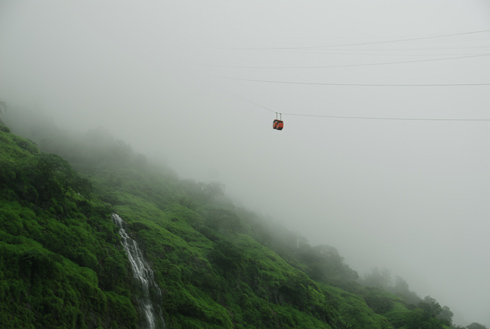 But, all was not bad with the trip. We came back through Varandha ghat and we got to see the best of what Varanda is famous for. Outstanding greenery as far as the eye can see and more waterfalls than we could keep count of!
Then finally, in October with some meticulous planning, we were able to see the king of all forts, Raigad fort (post due!). It was worth the wait, as this fort is an exemplary example of the might of the Marathas. The amount of history within the walls of his fort is amazing. We had combined a trip to Raigad with another new destination on the konkan, Karde beach.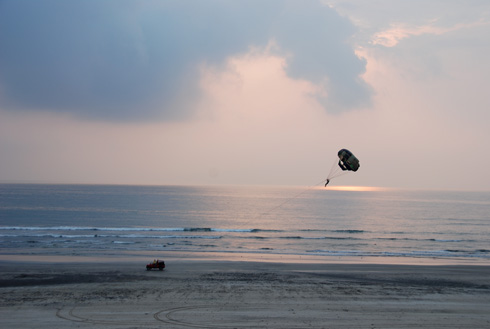 End of 2011, beginning of 2012, lots to look forward too. Starting with a trip to Rajasthan, courtesy my company. So, what's in plan – Malshej Ghat, Bhadandardara, Ganapatipule or Goa, some lesser known temples around Pune, Shivneri fort and more…