Pataleshwar Cave Temple and Jangli Maharaj Mandir in Shivaji Nagar
The Pataleshwar Cave temple and the Jangli Maharaj Mandir are located next to each other on J M (Jangli Maharaj) Road in Shivaji Nagar. it is surprising that you can find such calm places in the midst of the city chaos.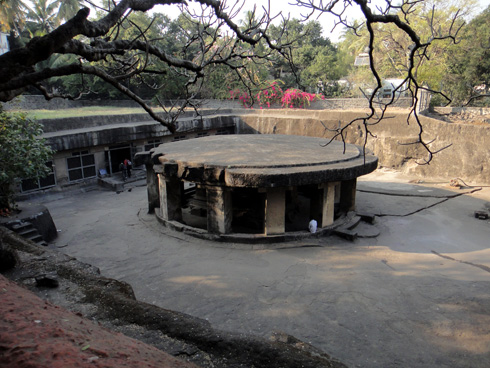 If you are asking for directions, ask for Jangli Maharaj Mandir, as not many know the existence of Pataleshwar temple. This is rock-cut cave temple dedicated to God of the underworld. the main shrine is inside a cave and has a shivling inside. The construction of this cave temple was left incomplete, but the original plan was to build something on the lines of elephanta caves. The entrance to this complex is not clearly marked. You enter onto an open area with a huge banyan tree which also serves as a cool respite from the madness a few metres outside on the road.
Jangli Maharaj Mandir is the places where the samadhi of Jangli maharaj, a disciple of Swami Samarth has been kept. There is also a way to go to pataleshwar from inside the JM temple.
Location of this place:

View Larger Map