The Pradakshina Marg around Harihareshwar Temple
Harihareshwar, also known as Devghar (House of God) or Dakshin Kashi (Kasi of South India), is a small temple town on the Konkan coast. It is not only a popular pilgrimage destination, but also popular for its beaches and the famous pradakshina marg around the temple. Themost popular place to stay at Harihareshwar is the MTDC Hotel, but the beach next to the hotel is rocky and not good for having fun. In fact, the harihareshwar beach is itself not recommended for swimmers as there are strong currents close to the coast and the general public are advised against swimming. We stayed at Diveagar and drove over, a short wonderful drive on the coastal road for around 30 mins.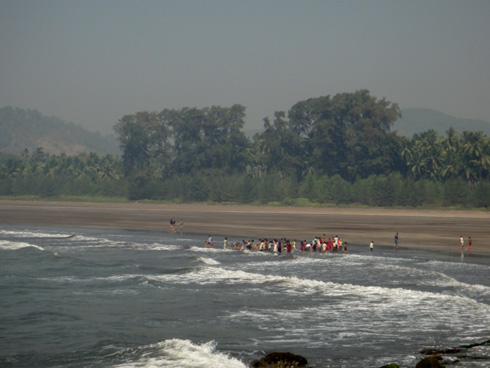 How to go to Harihareshwar from Pune: Harihareshwar is around 190 kms from Pune. Irrespective of whether you are staying at Diveagar or Shrivardhan or harihareshwar itself, the easiest route to take would be through Tamhini Ghats, then Mangaon on the goa highway, then the road to Mhasala (it is called as Masla and not as masala as we were referring to, when asking for directions!) and then onwards to Diveagar (turn right at a fork) or Harihareshwar (turn left). The stretch from the goa highway down to the coast is also a ghat section and pretty remote. So avoid a late night trip on that.
I had heard a lot about the pradakshina marg and was more interested in that rather than the temple. So, the religious/tired among us decided to stay back at the temple and the rest went on this tour around the temple. The steps start right behind the temple. Check with anyone around the temple about the conditions of the tide as it is quite dangerous to go on this train during high tide. The trail starts off with around 60 steps – 60 long steps and then you have to climb down around 140 narrow steps (a beautiful cut in the cliffs) down to the sea.
We were there at the wrong time of the day, just after noon and hence it was not good both in terms of energy as well as good photography. Otherwise, the 60 steps are not much of a hassle and they offer great views of the harihareshwar beach. The coastal rock formation just at the bottom of the stairs are amazing. We had to pull ourselves out of the place ( as we had a long drive back to Pune) , otherwise we would have spent the entire evening monkeying around on the rocks. Also, my research about the pradakshina marg was incomplete. I thought that it would be from within the temple and photography would not be permitted. So, i left my SLR back in the car and took along a compact camera, which doesnt work that well in such conditions.
As you go around the cliffs, you see lot of interesting sea caves. The waves were quite strong and the splashing of the waves against the rocks was wonderful to look at. I definitely want to go back in the monsoons and see how bad/beautiful the conditions are here. The whole Pradakshina should take around 30 mins with minimal stops and comes back in front of the temple on the beach. If you do visit the temple, don't forget to go on this trail