Ayyappan Hill temple and Murugan Hills near Dehu Road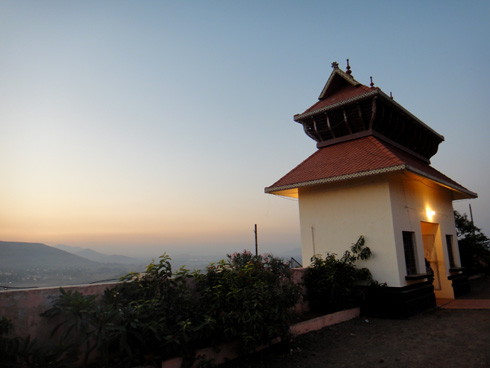 You don't need to be either a mallu or a religious person to visit the Ayyappan temple. You just need to be a person like me looking for some new scenic place to visit on a weekend! The Ayyappan temple in Dehu Road is a beautiful temple in a beautiful location. If you have never been to one before, this will be quite an experience seeing the rituals and the way things are done mallu style.
This temple is on top of a small hill near Dehu Road. Since the land surrounding the hill belongs to the army, photography is not allowed in this area. This place is popular with joggers and other runners who walk/run upto the top of the hill (through a trail or the road). The view from the top is unhindered on all sides and thus iit is also a popular hangout place for the people in that area.
How to go to Ayappan Hills from Pune(Magarpatta): Go towards Koregaon park, the Shivaji Nagar, then NH4 (old road to Bombay). This automtically goes to Dehu Road (a few kms before the toll or the Big Ganesha Statue). Anyone in Dehu road would be able to guide you. There is a State Bank of India ATM/Branch. Next to it is a road going in from the main road. This road climbs up to the top. It is a steep but easy climb for any car.
There is another hill temple closeby, It is the Murugan Hill temple. Though it is called as Murugan hill temple, there are many dieties here including Hanuman, Balaji & Sai Baba.
If you drive on through Dehu Road, you will meet the bypass road coming from the left (the one to use to go Expressway). If you continue straight on,
you should see a left turn going up to a small complex on top of a hill. You can either drive to the top or climb a dozen steps to reach the teample. From thsi temple, you can also see the Ayyappan Temple across the road on one of the hills (though it looks quite far!).
This is a good evening trip for a few hrs, as it takes around an hr in traffic to reach Dehu Road.