Mulshi Tamhini Lonavala round trip
This was on the plan for a very very long time. Tamhini is a favourite haunt for us considering the relative ease with which a trip to tamhini can happen. Every time we were there, i used to stop at this bridge because it is a very photogenic place and with the stream in good flow, it is really beautiful. There is a worn-out sign board in front of the bridge which says "Lonavala" to the right. This has always intrigued me as Lonavala is somewhere out there and there is a route which is a white line on the maps with no villages around. So, finally in 2016, it happened. A short review: go ahead and get on this route, it is wonderful!
The map below gives the entire route that i took. if it is not clear, you can view the map directly here. I have split it into various sections with details below the map. Most of the route is bad road with lot of broken sections and potholes. The section behind Mulshi is pretty remote and the road was broken almost throughout. But it can easily be done. We went in a Xylo and a Nano and both came out fine. If the roads were slushy/muddy, then it is an issue, but here the roads were rocky and hence not much of a concern.
The route starts from Magarpatta city. For those familiar with the city, start directly at point B, which is Paud, Mulshi road. It being a sunday, we included Hadshi on the itinerary because 1) it is a beautiful temple and 2) They make onion bhaji on sundays in their canteen (apart from the usual sabudana, poha and bhel)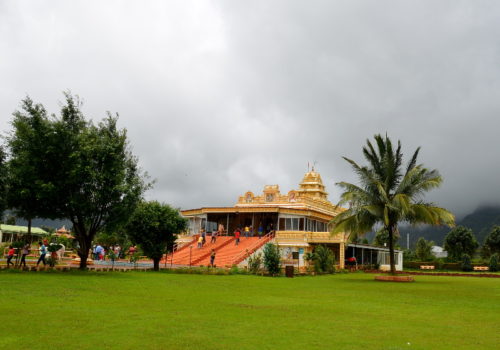 After Hadshi, the route actually turns left at Javan, but you can continue on for few kms ahead to get great views of Tung Fort on the pavana backwaters. During good rains, you can even see an overflowing Pavana dam.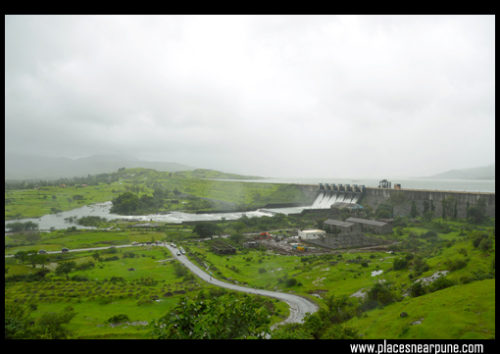 Once back to Javan, proceed towards Ghusalkhamb (the reference village in case you get lost). This is a beautiful stretch with many mini ghat sections giving you great views of Tung from the side. Another interesting place here is the Ajivali village, where you have a small walk to the Devrai Temple (Sacred grove).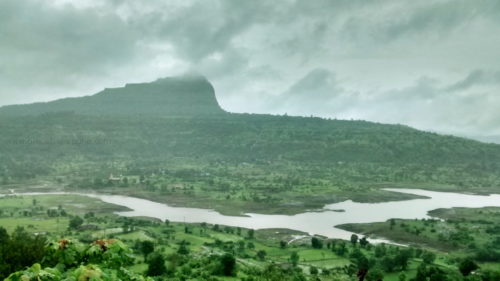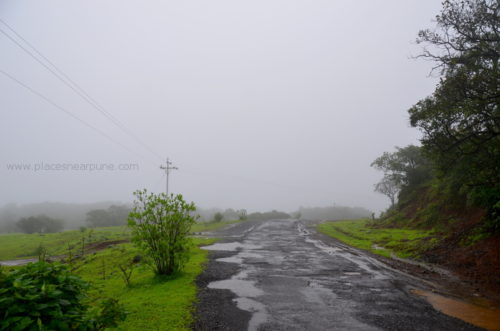 The stretch between E and F was really cool. It was a series of sharp hairpin bends right next to each other with a rapid descent. Was very cool to drive. Not sure how easy it is climb! Point G is the place where you meet the Lonavala-Amby valley main road. You can turn right for lonavala (no reason why to go to over-hyped, crowded Lonavala though). This is a slightly tricky junction. Turning left would take you through Amby valley to just before Mulshi. Going right and then left is the road to Korigad. The stretch from point G to Korigad fort is a beautiful lavasa-type road with trees on both sides of the road. A km after Korigad fort, there is a big junction where you have to take right (Point H). The next 30 odd kms are the highlight of this trip. A beautiful forest road, no civilisation, tons of waterfalls – awesome to drive on. The road condition is bad, but as i wrote before, it is all rocks and no mud, so slow and steady will take you through. A Xylo and a Nano made it through safe and sound. It was raining continuously and hence we lost out on many photo opportunities, but on a regular monsoon day, you will be stopping every few mins for a photo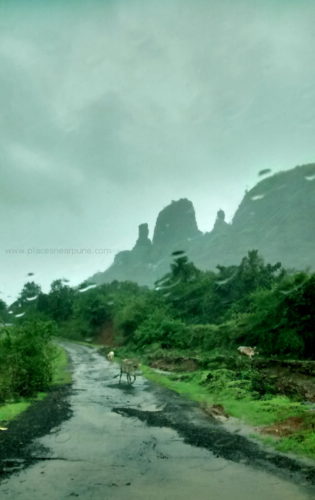 You will come across dozens of streams criss-crossing the road. Some of them were almost like rapids. Due to the rains, we couldn't get down at many places. But we did manage to explore some of them.
Just before you reach the Tamhini main road, you will come to a view point called "Independence point". it was mind blowing. A huge valley with mist flowing through it. but we reached there late in the day and couldn't spend time there. Noted for the next trip 🙂 Once we reached Tamhini, we went to our usual food stop – Quick bite. But, i thunk i have to start looking at a new food stop because Quick bite has become super expensive nowadays e.g. Paneer Butter Masala costs 220 bucks!
If you reading this on a week where it has rained a lot, go for this road trip the coming weekend, satisfaction guaranteed!