Lenyadri Caves Ashtavinayak Temple
The Lenyadri cave complex is a series of Buddhist rock-cut caves (like Karla, Bhaja), but also happens to have the only Ashtavinayak temple on a mountain! So, an easy climb to a beautiful cave complex with a great view and an ashtavinayak, what more do you need for a day trip?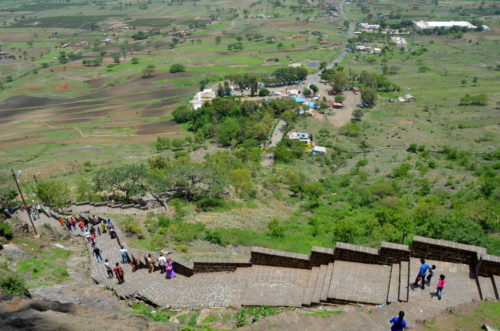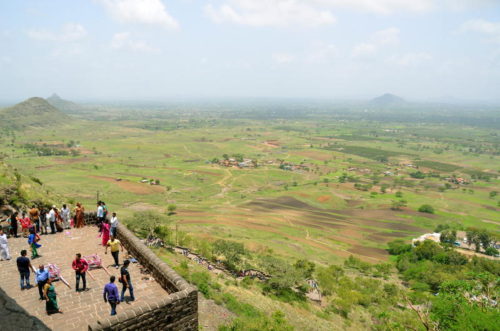 Lenyadri is located a few kilometres away for Junnar and can be combined with many other popular destinations like Malshej Ghat, Shivneri Fort and Ozar Ashtavinayak temple. The climb will take around 20-25 mins and there are proper steps throughout the way. Even with Advika on the sling, it wasn't much of a bother to climb. The kids also enjoyed the climb.
Route to Lenyadri Caves from Pune (Magarpatta City):
All the main caves are right at the point where you reach the plateau. They can be reached by climbing few rick-cut steps. It was fun climbing up and down to each of the caves. The steps provide lot of interesting photo opportunities too 🙂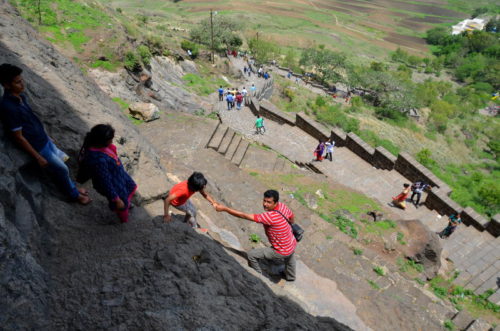 Cave 6 is a chaitya griha and has a huge stupa, found in almost all buddhist caves. This one has a path to go around. Cave 7 has the ashtavinayak temple. This is a huge hall with a low roof. A visit to Lenyadri is an enjoyable and a relaxed one-day trip from Pune. The restaurant at the bottom of the hill gives an unlimited thali (great rotis!) for just 100 bucks a plate.