Bhor Raireshwar Fort Wai Monsoon Drive
As they say in movies, a wrong turn could take you to place you didn't plan for. But in reality, missing a turn also has the same effect 🙂 But once we found the turn, it turned out to be a beautiful drive through an amazing ghat section. Raireshwar fort is actually a plateau with a village and is relatively easy to climb up to (we didn't do the climb though). This place is popular post monsoon and rivals Kaas in the number and variety of wild flowers. Once while moving around on the map section, i found a very interesting curly road (always searching for curly roads!) and came across this…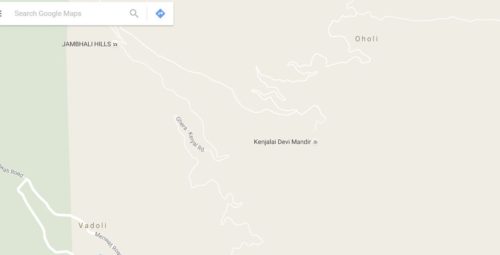 The territory was familiar though. I am a regular on Bhor-Varandha route and the menavli ghat near wai. These are two parallel mountain ranges and i had also been to Mandardevi which is on the connecting road between Bhor and Wai. Now, this was another connecting route. Also i had seen a similar route for the HVK monsoon drive which happened in 2015. So, the plan was on. We go to Bhir, climb up to raireshwar climb down to Dhom dam backwaters, come to wai and eventually finish off with a sandwich at Mapro, which is our default food stop if we are anywhere in the area 🙂
This is the route we took (or rather we planned to take):
You can stop at the following places on the way: The U-Turn river near Bhor (check the bhor post for the location), an old hanging bridge in Ambawade (really cool). Once i plan the route, i don't usually look at maps as i prefer to get around my asking people in case of a doubt. We had crossed Ambawade and all set to enter the ghat section of Raireshwar. But what i missed to notice was that a regular curve in the road was actually a very small left turn near a house (visible as a puddle of water due to the rain – doesn't look like a turn aat all). There was a path ahead too and we continued. After a while, it became a proper mountain road. But the scenery turned awesome. If you view the map below in satellite mode and zoom in, you will see a 'road' going straight from from the first point. We just drove ahead 🙂 This is what we got to see on that section. In the first photo below, the track to the left was the 'road' we were driving on. At many curves, a green carpet welcomed us. At some points, i asked Vidhya to go ahead and confirm that there was something ahead that we could drive on 🙂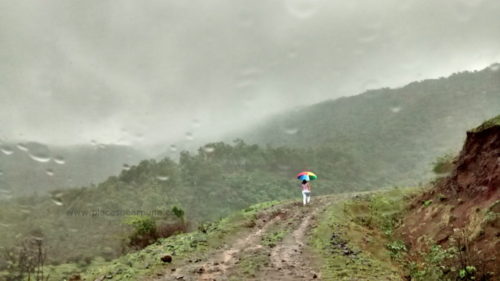 We were in two cars – a Xylo and a Honday City. The Xylo kept trudging ahead not caring about the slush or the rocks. But we reached a stage when it was risky to keep the city moving ahead. At this point, someone in heavens told us that we were probably in the wrong place and we should be turning back. So, we did and went back a few hundred metres to the houses. Then while enquiring, they told us that the actual road was to the left and were wondering what we were doing with a car on a mountain road meant for goats!
Eventually, we did take the left. But that too had some rocky sections over streams. At one point, i was just relieved to see a proper tar road!
After that, we climbed up then kenjaalgad ridge, came close to the exit of raireshwar and climbed down to Ghera Kanjal on to wai. This short climb up and down is BEAUTIFUL! Any car can manage it. then we finished off as planned in Mapro. Overall, a very interesting and adventurous road trip!