Picturesque wai village near Panchgani and Mahabaleshwar
On the way from Pune to Panchgani and Mahabaleshwar, a casual traveller can easily ignore Wai  as just another dot on the map.  But, if the little effort of deviating around 3km from the main road is made, you are assured of getting enough natural beauty to your heart's content.
Route to Wai from Pune (from magarpatta):

View Larger Map
Go to Solapur Road, Keep driving towards swargate. At the swargate signal, turn left towards Katraj. From here, it is a straight road to Katraj. Once you reach Katraj, you will pass the Rajiv Gandhi Zoological park (a.k.a. Pune Zoo or Katraj Zoo ) on your left. You should see a Ghat section in front of you. On crossing this road, NH4 will "arrive" from the right. Join it and enjoy the drive for around an hour. After around an hour, you will come across a mountain cutting across the highway leaving you wondering on how to cross it. This is the Khambatki Ghat. The best part about this Ghat section is that it is one-way leaving you freely to overtake slow vehicles even on a blind curve. The ascent on this ghat is wonderful and if you can, do stop for some beautiful photo opportunities. No, don't plan for a photo session on the way back, as the way back doesn't have a ghat section, but a long tunnel! Once you cross this Ghat, you will see signboards for Wai/Mahabaleshwar (go under the bridge to the right). This is a nice single lane road with lot of banyan trees for company.
After around 8-9 kilometres, you have to turn for Wai (Going straight will take you to Panchgani/Mahabaleshwar). After around 3 kms, you enter Wai village. Maybe Wai was a village long time back, but it is a bustling town now and you will surely ave a strange look on your face as to why so many sources on the internet called Wai a beautiful village (just as i did!). But, what you have reached is the town centre. The real beauty of Wai is beyond that.
The village centre too has interesting spots. There is the Maha Ganapti mandir (the first photo of this post) and some nice small temples/bridges to photograph! But, the real reason why many visit Wai is a further 3 kms away, in a place called Menavali Ghat (or Menavli). Btw, it is pronounced "May"navali and not "Mee"navali. I confused quite a few locals by asking for directions to "Mee"navali Ghat.You just have to keep going a further 3 kms on the same road you entered Wai. Do not take the left (near the Ganpati mandir) crossing the bridge. We shall go there later 🙂
Menavali Ghat, the place which contains – as people would like to say – the temple appearing in Shah Rukh Khan's Swades. This was the place which the movie referred to as Charanpur. Of course, they must have spent a lot of time cleaning up the temple's surroundings to make it look so good. Nevertheless, the place is calm and serenely beautiful. You don't see people by the hundreds like in Lonavala, just the few who have taken the trouble to drive over to this remote area. We spent close to half an hour taking lot of photographs.
Akshara was quite interested in the buffaloes, as she was seeing such an animal for the first time 🙂 After the Shaniwar Wada trip, Akshara has taken a liking to the umbrella and it is very difficult to pry it away from her once she takes it.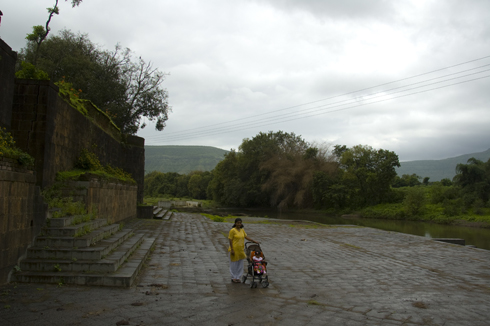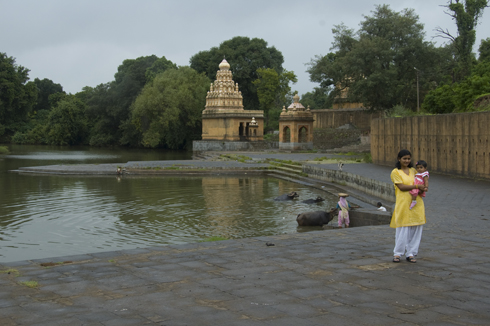 I also read somewhere that the big banyan near the banks was the one used in the movie Swadesh for the Panchayat scene. So, we took some photographs near it for posterity's sake 🙂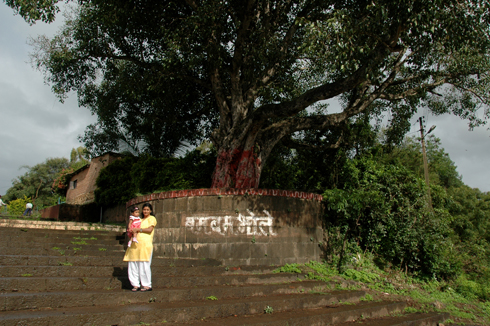 Right neat to the place where you park for Menavali Ghat is the Nana Phadnis Wada. This is the place where Nana Phadnis, a minister in the Peshwa era built a wada (house) for himself on the banks of the Krishna river. We didn't have time to go inside and explore the house, but the wada looked very photogenic in the light drizzle that was on.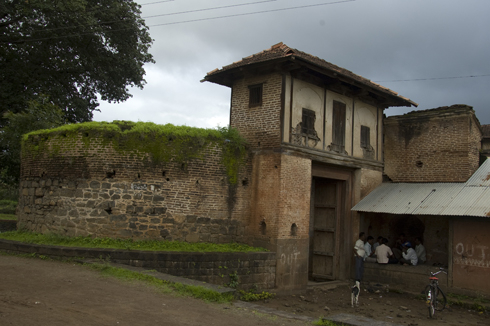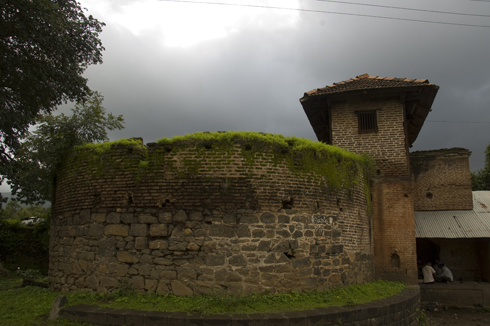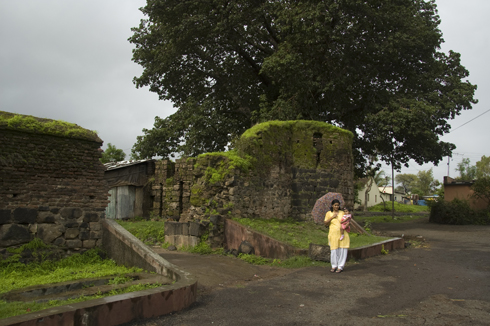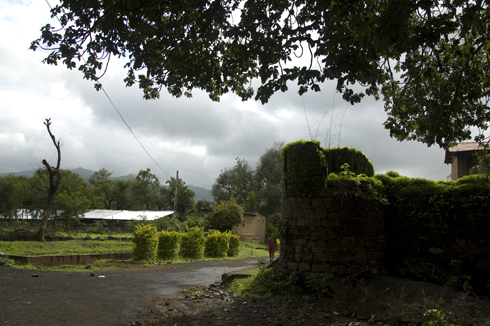 Not many who visit Wai take the trouble to drive another 9 kms in the single lane road until Dhom dam. You have to come back to the village centre from menavali Ghat and then cross the bridge next to the Maha Ganapathy Mandir and take a right. This road will take you to Dhom dam. But, it seems, dhom dam is closed to public and there are also signs that photography is not allowed. But, we drove a little ahead and asked people to point us towards any place where we can get close to the water (backwaters of the dam). We were shown the way towards a boating place. It is a narrow lane which opens up once you come close to the water and the view was AMAZING!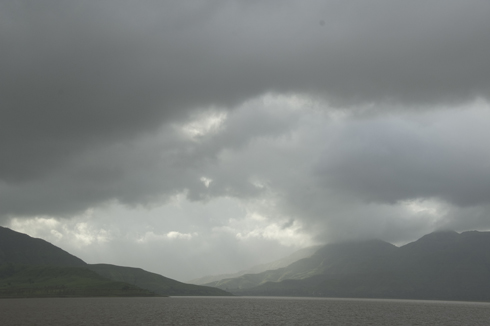 The pictures definitely don't do justice to the beauty of this place. Vidhya even started comparing it to the views near lake thun in Interlaken, Switzerland! There were just 2 other groups of people there and they were also about to leave. The view was such that you felt the need to immediately take a panorama.
There was this strange formation on top of the mountain nearby (Second photo below). We thought that it may be the remnants of a fort, but the locals said that there was no fort there and it was just some rock formations. They looked pretty impressive from far and i am surprised that i never saw any information/photo of this online. If you have any info on this formation, drop in a comment.
We spent close to 15 minutes at this place enjoying the solitude. We left as we wanted to be back in Pune before late night. Some more photos…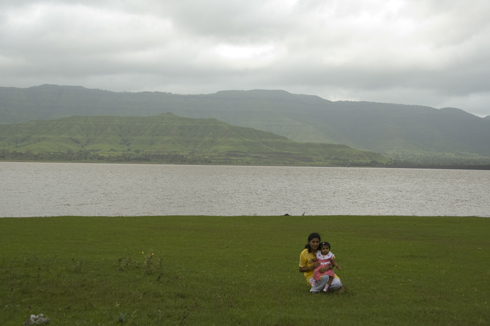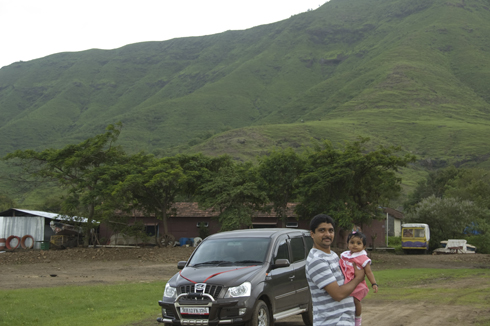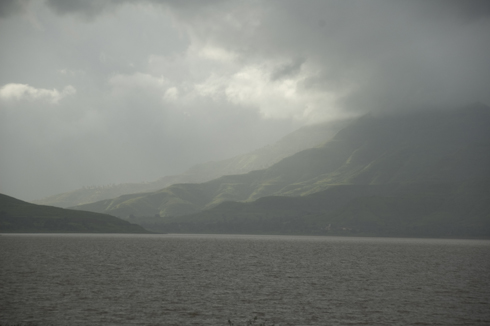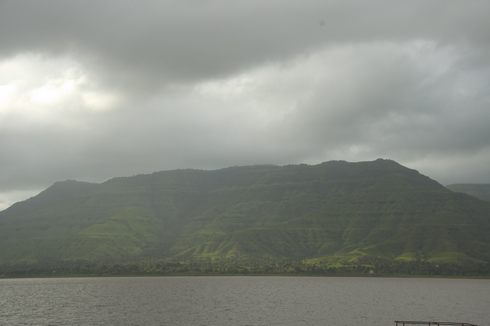 On the whole, it was an enjoyable 7 hour round trip –> 2 hours from Pune to Wai (1.5 hrs if you leave early in the day), 1.5 hrs back (time saved because of the tunnel through Khambatki ghat) and the rest spent in photography and a south indian snack at gandharv dhaba (just before the Wai exit on the road from NH4 to Panchgani).