Lonavala waterfall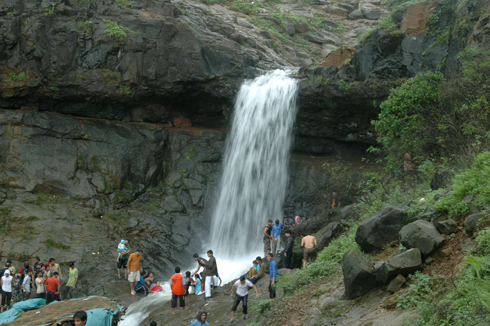 During the monsoons, everywhere you turn, you see waterfalls in Lonavala. Why then a post called "Lonavala Waterfall". This is the official lonavala waterfall, not just water which falls somewhere! A short climb after the Bushi Dam, you will come across a huge parking lot on the right with lot of shops selling the usual corn, pakodas and chai. From this parking lot, you have walk/trek/scamper down over the rocks to come to this waterfall.
I went to one of the shops and asked the way to the waterfall, as there were no signs. The guy at the shop nonchlantly pointed me towards the edge of the cliff and asked me "walk down there", "there" –> edge of the cliff where water was falling off. I was not  convinced that this was the way as there was no path there, just random slippery boulders over which water was flowing at a steady speed.  Another shopkeeper also pointed in the same direction.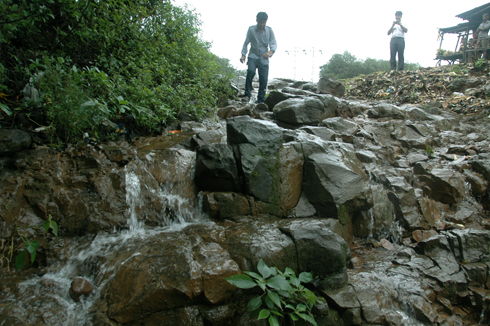 The rocks are actually not so slippery as they look. But, it was quite an experience to walk over the rocks when the water is also flowing. it would be quite difficult for old people to make it through. Once i reach the bottom, the waterfalls appeared on the right and the stream/river flowed to the left. There were people everywhere, really everywhere. But, it looked like fun. The flow was pretty fast and people enjoyed the mini-rapids. Some were even brave enough to go behind the falls and have a different perspective!
The view of the hills from the falls is amazing. You can frolic in the water and then just relax looking at the view!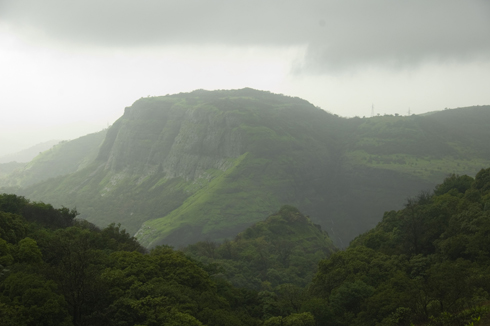 Once you have had you fill of the waterfall (no pun intended), you can even go for a camel ride at the parking lot. i have no clue how or why a camel ride fits in here, of all places!