Balaji Temple at Narayanpur Village
My first outing in Pune was to the Balaji temple near Narayanpur village. I didn't take my camera with me at that time, but the place/route was good enough to make a second visit within 2 months. The balaji temple near narayanpur is meant to be a replica of the Tirupati temple in all aspects. The priests there have come from Tirupati and every "sevai" done is similar to the one in tirupati. They even give out one laddoo to every visitor!
The temple is very well maintained and if you visit quite early in the day , you can see the main deity in a matter of minutes whereas on a weekend or in the later half of the day, quite a queue builds up. In summer, the ground gets really hot and it can be quite an experience to reach the comfort of the shade from the point where you leave your slippers. The temple timings are from 5 AM – 8 PM.
Route from Pune to Narayanpur: I stay in Magarpatta, so all the routes mentioned start at Magarpatta! Go towards hadapsar market. Do not go over the flyover, go tothe left of it. Once you see the hadapsar bus stand (to the right, when going from magarpatta), you have to go around it . You have to go on this quite a long distance to reach Saswad village. You will cross a Ghat section to reach Saswad. Once you reach here, you would see a bus stand (a bigger bus stop to be precise!) and also a Sivaji Statue (not a good landmark, as there are hundreds of Sivaji statues all over Maharashtra). Beyond this bus stand, you will see sign boards for Narayanpur. The moment you take this turn, you will enter a maze of extremely small streets. After crossing this village, the greenery starts to open up. This road will take you right into Narayanpur and to the Balaji temple beyond that.
One of the landmarks you will see on the way is the structure below while crossing a narrow bridge. I somehow get reminded of Angkor Wat whenever i see this photo, dunno why!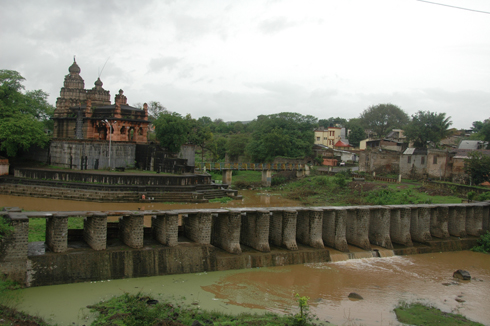 The first time when i visited here, the surroundings were pretty dull, but everyone told me that things drastically change with the onset of the monsoons and they were right! The whole route was bathed in green with numerous small waterfalls and streams dotting the sides of the road.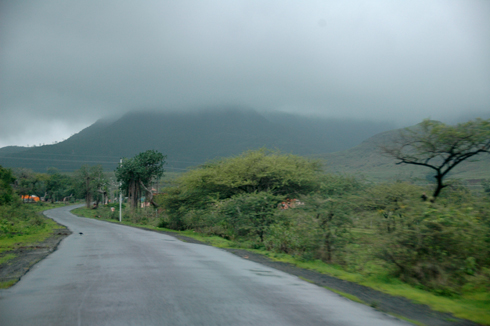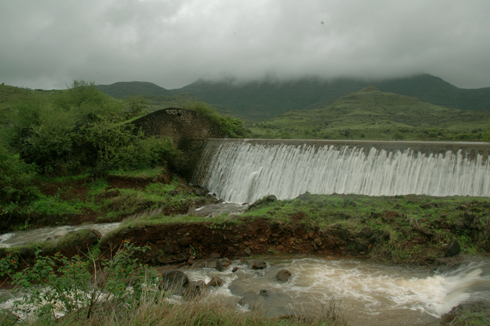 A trip which should normally take around an hour one-way ended up taking almost double the time, because the temptation to stop the car and go out and take photographs was too much to overcome.
Just a few kilometres ahead of the balaji temple is the fort hill of Purandar. A small road goes to the left (with clear signs, albeit in Marathis). If yo don't know Marathi/Hindi, look for the Sivaji photo! We had not planned a visit to this fort, but i drove towards it just to see the demo version so that i can plan an exclusive trip later. The road was in a pretty bad condition. We met one passer-by and confirmed that this indeed was the road up to Purandar. He confirmed that and said that road condition is much worser further on. It had also started raining heavily by then. So, we turned back. But a walk/trek up to Purandar (a drive, if your car is well insured) is a must on the to-do list!