Karla Caves near Lonavala
Karla and Bhaja caves are kind of sister caves, as in most tourists visit both of them in a single day as they are less than 10 kms apart. Karla caves are also of Buddhist origin and look similar to the excavations at Bhaja.
How to go to Karla Caves from Pune: Take the old Mumbai-Pune Highway (NH4) from Pune. Around 6 kms before Lonavala, you will come to a junction where right turn will take you to Karla and a left will take you to Bhaje. Few kms from this junction, you will climb up a small hill and come to the official parking at Karla caves.
Karla caves are actually much bigger than Bhaje, but the presence of a temple outside the cave makes this place extremely crowded and noisy. The place is a deadly combination of piety and pav bhaji with dozens of shops lined all through the way up to the cave. I don't know whether it is us, the people of India or the government (or Archeological Survey of India) which is to blame for the utter lack of appreciation of places of natural or historical significance. There were large groups of rural and urban party-goers who had parked their vehicles all over the place. One particular group's actions were to utter disbelief. The men in the group had sat down by the side of the road consuming alcohol, the women were cooking on a makeshift open-air kitchen and the kids were happily defecating in the open, all within a few metres of the so-called ASI office. If you dislike all this, skip Karla and go over to Bhaje. Otherwise, the climb is good, especially in the monsoon. it is moderate climb for around 20 minutes and if you take pav-bhaji/cool drink breaks, you won't be even realize the climb.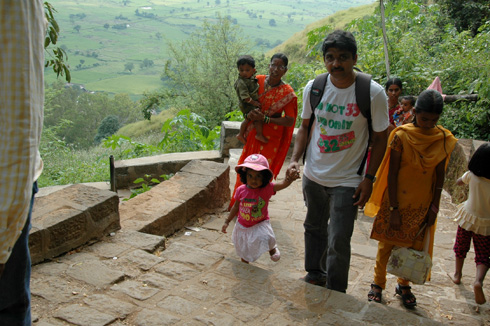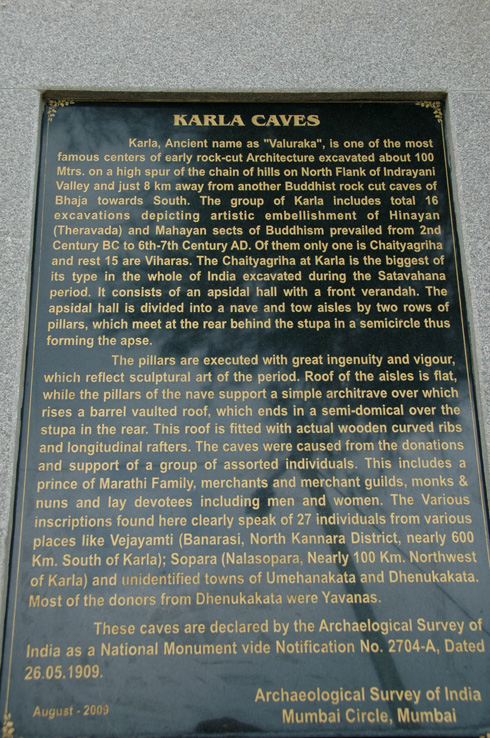 Photographically, the place is beautiful with many small openings in the rocks to give you that perfect light, especially in the evenings. You can climb to the upper level through stairs , also cut on the rocks.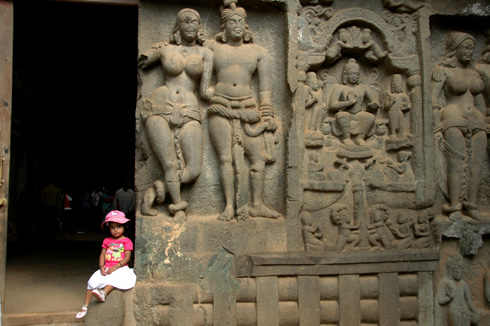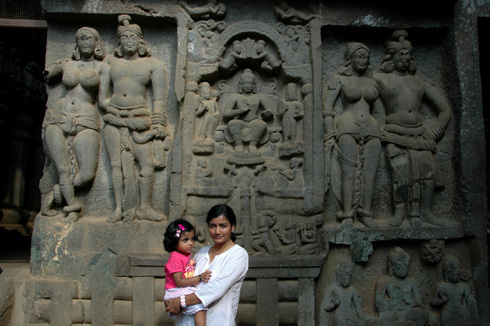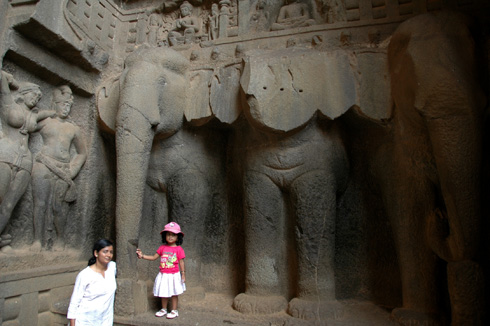 The adventurous can go to the side of the main caves and there is path which goes all the way to the top of the rock. I heard that it is pretty narrow and there may be lot of snakes in the undergrowth. But, i saw lot of guys going on that path. We too went ahead a small distance, but turned back as there were lot of dragonflies and it was difficult to balance on the narrow path while carrying Akshara.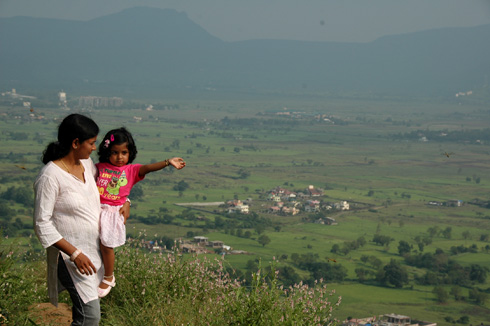 It is a good half-day outing and if you have the energy and time, you can combine it with Bhaje caves.