Sangameshwar Temple near Sasvad
Sangameshwar temple near to sasvad, at the confluence of the Karha and the Chamli rivers, is believed to have been built sometime around the 7th-10th century during the Yadava reign. The temple retains the old-look which adds to its charm. Renovations are good, but if they change the look or the architectural style of the original, it is as good as a new structure.
The rivers fill up considerably during the monsoon months and the small dam overflows giving a very picturesque sight. During the summer months, the rivers turn green with algae, but green algae too can look very appealing to the eye!
How to go to Sangameshwar Temple from Pune: If you a well-versed in the areas around Pune, then all you have to do is take the road to Sasvad from Hadapsar, reach sasvad, take the turn towards Narayanpur (Balaji Temple), then you will cross a narrow bridge, to the right of which you would see the temple (The view in the first photo above). A small chance of a confusion here. From sasvad, there are multiple exits to narayanpur. If you take the last one, it kind of bypasses the small town and hence you won't go on this bridge. So, if you see a river on your right and then you come to a fork with a playground on your right and the route to narayanpur is on the left, you have missed this place. So, all you have to do is to take the right into Sasvad and you till get this bridge within 200 m. If all the above doesn't make sense, follow the map below. Also given is a snapshot from Google Earth.
We were there at around 4.30 in the evening and the mild breeze combined with the absolute calm made it a wonderful experience. The temple's Shikhara (dome) had hundreds of small sculptures of deities carved over many layers. They looked pretty worn-out, but the sculptures could be clearly identified.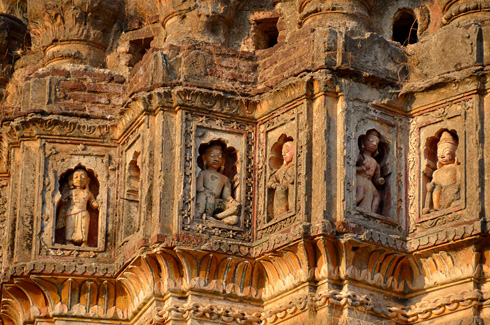 You can walk down to the river bank on all the sides and we even found one painter deeply engrossed in painting the river view along with the smaller shikharas on the side. The temple has two huge deepmalas on either side. Not sure when they are lit up, but if they are, it would be an impressive sight from the bridge. There is a colourful (and quite bigt) Nandi inside the temple.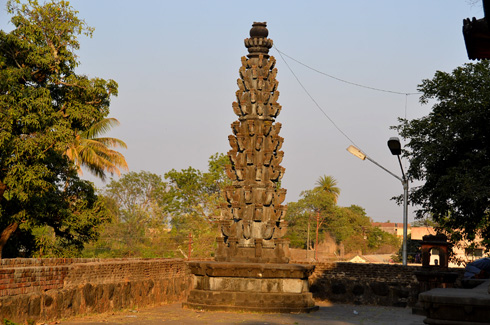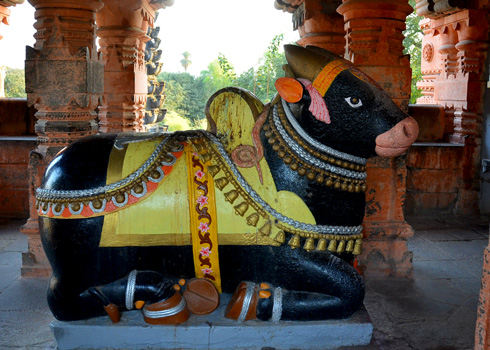 Our original plan was just to visit this temple, but having come so far, we first went to the Balaji temple and then came here on the way back from Pune. The Balaji temple is a very short drive of around 10-12 kms from here. Just outside the temple, we saw a crumbling house. It was surprising to see a tata Sky dish on it. The house looked like it miht crumble just by the weight of the dish!