Shivling peak near Lions Point, Lonavala
In these parts of India, any conical peak would, for sure make an appearance in some mythological story or the other, of having some significance related to the Shivling. This peak, close to the Lions Point in Lonavala, is no exception. But, its dramatic location makes it one of the more easily identifiable landmarks in Maharashtra.
This peak is on the left of the Lions view point. We first stopped over at Lions point, but it was extremely misty and we couldn't see anything beyond the cliff's edges. Btw, these cliffs are infamous for many deaths of adventurous people who wander too close to the edge and fall off into the abyss below. Even if it is misty or cloudy, this peak presents an ominous sight. We didn't stay long at the view point, as it is a very dirty place and not one where you would want to sit ad enjoy nature.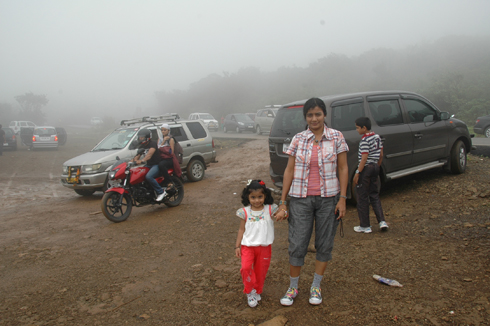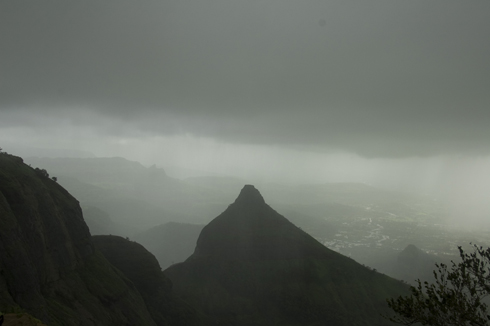 If you happen to drive a bit ahead, away from maddening crowds and the butta shops, you will see a clearance on the right with magnificent, unpolluted views of the cliff and the valley below. Since there is a gradual slope here (rather than a sharp drop-off at Lions point), you can try a bit of adventurous climbing here.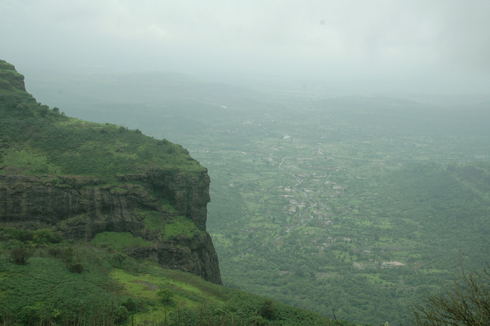 Next time, if you happen to be in any of the view points on the Lonavala stretch, be a good Samaritan and thrown that leftover butta or the coffee cup into a bin rather than on the ground!