ISKCON Temple NVCC in Kondhwa
ISKCON is a wealthy organisation and it shows in their new temple recently opened (inaugurated by our president Pranab Mukherjee) in Kondhwa (Earlier got confused with Kothrud!). This one is called NVCC – New Vedic Cultural center and has grand plans. The one in Kothrud has also a Balaji temple, a replica of the Tirupati temple.
Construction is still on (as of Mid-April 2013). The temple is architecturally very beautiful and nothing has been spared to make the interiors very appealing. The central hall has huge carvings on the roof with central dome depicting Krishna and Radha. The corridors around the main hall have murals depicting various mythological stories and also many from Krishna's upbringing.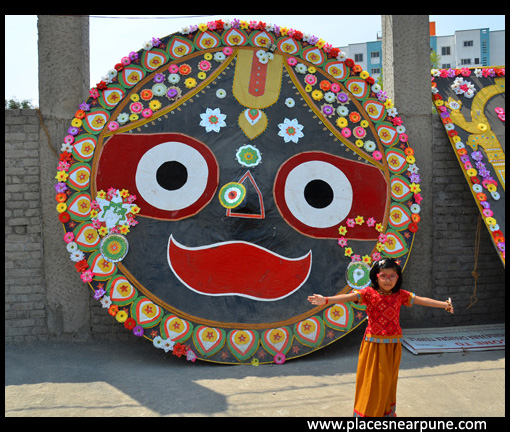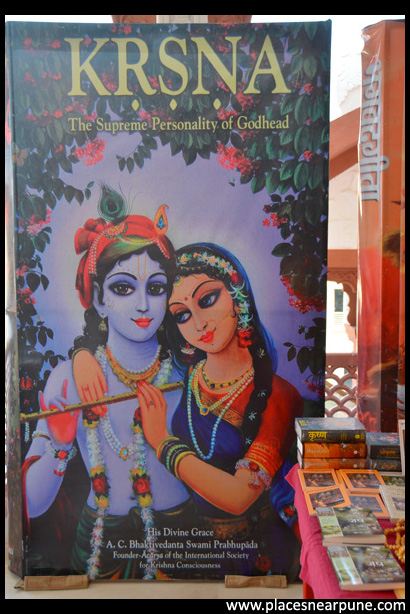 There are three main "deities" – Sri Sri Radha Vrindavanachandra, Sri Sri Gaur Nitai & Jagannath, Baldev & Subhadra. There is also an idol of Sri Prabhupada, the founder of the ISKCON movement.
Location of the temple – See map below for route from Magarpatta.
The darshan timings – the times when the door of the deities are open to the public are given below. The temple is also well-lit during the evening and it is a beautiful sight.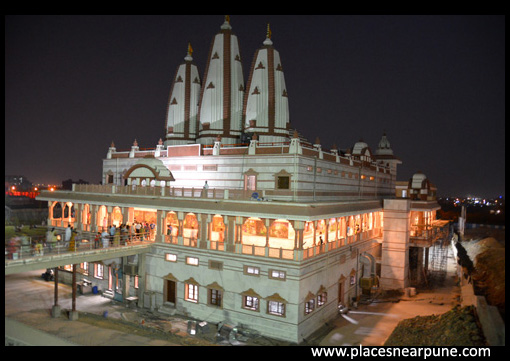 Kichdi is served free of cost through out the day. ISKCON also runs a Govinda restaurant which serves regular vegetarian fare like dosas, parathas and some sweets. The first time i went, it was during the lunch time and hence there was not much activity. The second time, i went during the late evening and darshan was on along with a bhajan. The bhajan along with the dholak and other instruments produced a mesmerizing noise. People were dancing in the central hall and it was almost a trance like situation. The energy was unbelievable and it would almost be impossible to resist the urge to dance!
On a personal note, i am not a big fan of ISKCON, because of various reasons. Anyway, the temple is a nice place to visit. Go there, enjoy the music and experience the amazing energy. Up to you, whether you want to join and become spiritually engaged with ISKCON!