Morachi Chincholi – the peacock village near Pune
A famous village in the midst of non-descript villages! Morachi Chincholi village – the names means peacocks and tamarind trees. This village is famous for its tamarind trees (which no one is interested in) and hundreds of free-roaming peacocks and peahens (which everyone is interested in). I like watching birds and was very curious when i heard about this village as almost every peacock i have seen before was in a zoo, apart from the few which roam around the BITS Pilani campus.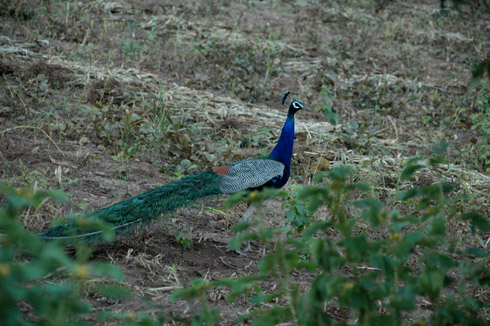 How to go to Morachi Chincholi village from Pune (Magarpatta City):
The route is pretty straight-forward. Go towards the Nagar Road, turn right on it (i.e. opposite to the direction of the airport and towards ahmednagar). Keep going until you reach Shikrapur. There, you should see large signboards advertising the homestays and eco-tourism in Morachi Chincholi. You have to take a left there and keep going for another 15-16 kms on a not-so-bad road until you see an arch (with peacock statues on the top) on the right. This is the entrance to the village.
The village is not very big i.e. the one road which runs through it is probably a 2-3 kms long. But, the peacocks are everywhere. You have to drive long the road, stop somewhere and then wander on to the fields. This is the best option to find them. Just staying in the  car and hoping that one would land in front of you car can happen, maybe in your dreams 🙂 Having said that, we did get one which crossed the road ahead of us!
We ventured into the fields a bit and managed to see quite a few peacocks. But the problem was that they were extremely fleet footed and often went into the tall grasses literally becoming invisible. Once, we were just looking around standing near the edge of the road and suddenly a peacock rushed out of the bushes just a metre ahead of us. He was there all the while and we hadn't even noticed him. Probably, a sudden movement by us startled him.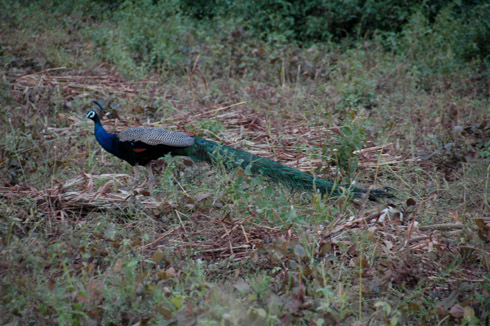 Morachi Chincholi is not just about Morachis, but also chincholis! There were lot of tamarind trees around and we picked up a few seeds to take back home.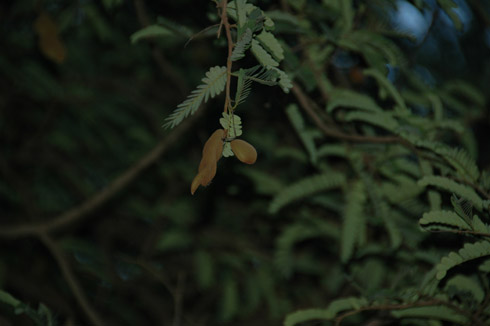 When i and Parthipan returned from our scouting inside a field, i saw that Akshara had two nice peacock feathers in her hand. It seems that a villager had chatted up Vidhya while we were away. She was the one who told Vidhya that there were hundreds of peacocks in the area and that the best time to see them would be early mornings and late evenings. She had also gifted two feathers to Akshara who looked very happy with her new toy.
There is also a small temple in the village where it seems bhajans happen in the evenings. There are many "resorts" and eco-tourism centres within the village which offer overnight stays (along with guarnteed sightings of the peacocks!). They also arrange bullock cart trips into the village. We just requested one such parked bullock cart for a photo-op and he was kind enough to oblige.