Drive to Lavasa, the hill city
Set over 7 hills, Lavasa calls itself "India's first planned hill city". I am sure it will live up to this when the project completes. Lavasa city is in the midst of many mountains and almost every part of Lavasa has its own lakeshore (dam backwaters).
Lavasa is portrayed as the retirement place and it is quite true. I am sure everyone would like to just get up in the morning, go for a jog and spend the day doing nothing amongst scenic surroundings. But, I am not sure whether the concept of a retirement home has still caught on in India.
How to go to Lavasa city from Pune (Magarpatta City): Go to Chandni Chowk. Proceed towards Mulshi Dam. Once you climb down Pirangut ghat, you woul start seeing big blue coloured signboards for Lavasa. After Pirangut, you have to take a left for Lavasa. Once on this road, you would cross Temghar dam. Keep going on this road until you see an arch on the right, which is the official entrance of lavasa. From this point, the road goes down to the dam and the city.
The distance to Lavasa from the turn on Mulshi road (after Pirangut) is around 30 kms. It is a wonderful hill road to drive on. If the management of Lavasa wanted people to settle down at Lavasa, they realised that they should make this place easily accessible. The road is very smooth (too smooth for indian roads) and the curves on the road make it a biker's paradise.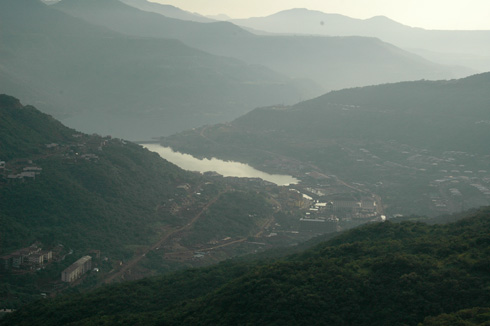 The promenade on the lake shore has been modelled on old europe with many stone bridges criss-crossing the waters. This makes the lakeshore an extremely scenic place for photography, particularly in the evening light.
Lavasa entertains casual visitors and it is a good place to go for an evening. You can just walk around the promenade, go for all kinds of watersports, dine at the various restaurants or even stay over for the night at the many hotels inside the city.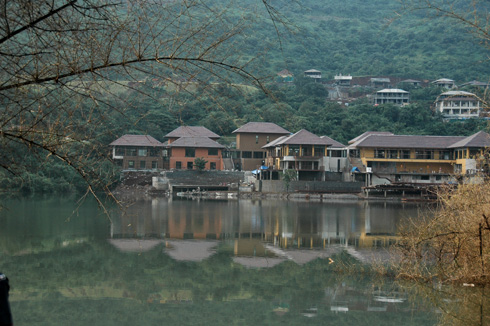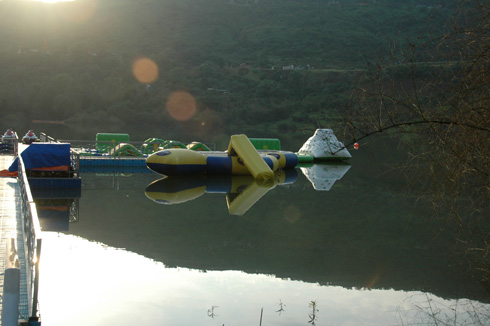 Inside their main office, there is a Lavasa experience zone, where you can see about the future plans of Lavasa and other details about the city.
The ekaanth retreat in Lavasa is a good place for an overnight stay or a buffet dinner. Be sure to be at the parking lot of this lodge at sunset. The view from the parking is awesome.