Gurusparsh Strawberry Farmstay in Panchgani – better than all those fancy villas
When you are welcomed with a bunch of freshly plucked strawberries, you know that you in for a sweet stay!
Panchgani & Mahabaleshwar are famous for strawberries, particularly in the winter-spring season from Jan-Mar. Every shop on the road running through these hill stations is selling strawberries and everything imaginable made out of strawberries. We are a regular every year during this season, mainly to have the sandwiches and fresh strawberry with cream and ice cream at Mapro.
This year, i wanted to stay over for a weekend in Panchgani. But, as expected, all the places are super high-priced as the demand from Mumbai-Pune tourists is pretty high. During one of these googling sessions, i chanced upon Gurusparsh Agro Resort – cottages in the middle of strawberry farms and it didn't take long to get convinced to give it a try. This agro resort is located in Bhillar village, which is quite popular as the book village. If you haven't been to the village, do not miss it next time you are in Mahab/Panchgani. More details about the book village here.
This farm is a certified organic one and as he demonstrated (and we followed suit), we can just pluck the strawberries and eat them directly – no need even to wash them. That was cool.
The place is run by a farmer-family – a joint family of brothers. They have individual cottages with attached baths at the edge of a cliff, with acres of farms behind them. The kitchen is run by the ladies of the house and you can get authentic Maharashtrian food at a very nominal price.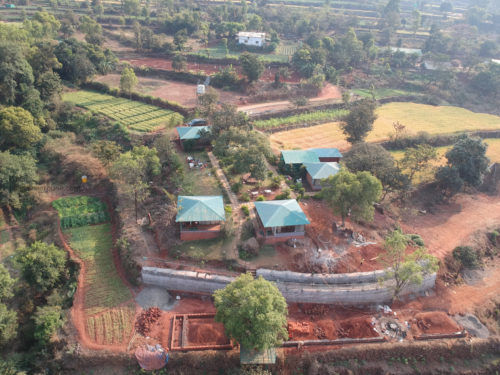 Update (Late 2021): The four under-construction plots that you see in the pic above have been made into 4 beautiful cliff-edge cottages.
So, they have a total of 8 cottages now. The new ones are slightly bigger and have a balcony facing the valley.
You would normally expect a very basic living space in homestays and particularly in farmstays. But, here the cottages were actually very well done. Quite spacious (even with a extra double mattress on the floor), clean big bathrooms (with geyser), good bed furnishings. The best thing – the front is an all glass panel offering you unobstructed views of the valley (from the 2 cottages at the edge of the cliff). All the cottages have a small sit-out where you can just laze all day in the winter sun.
Wait, there's more. There is a machan erected in front of the cottages which is a cool place to sit and chat or even attend online school, which my kids did as we added a working day to a weekend (all networks work there – at least VF, Jio and Airtel did!)
So, what can you do when you are here? Of course, all the places and view points in Panchgani/Mahab are just a short drive away. We went to just relax and didn't step out in the 3 days. You can visit their farm and try your hand at strawberry plucking. Their family members also take you on guided treks to places off the tourist radar (next time plan for me!).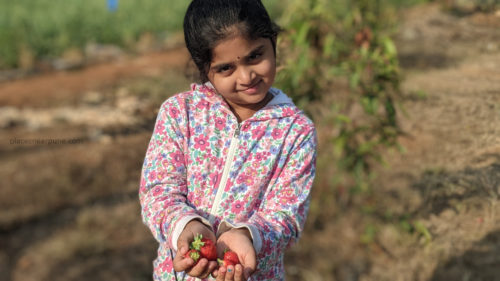 Now, the coolest thing about this place. A cottage costs around 3K for a night including breakfast (very very nominal for Panchgani/Mahab). Veg Lunch/dinner costs around 200 per person per plate – good home cooked food with vegetables plucked from the garden. Also, you can skip your evening tea and go for a strawberry cream with fresh strawberries or a strawberry shake – very tasty!
The route to Gurusparsh Farmstay in Bhillar:
So, avoid all those crowded high-priced over-hyped villas and resorts and experience comfort with this farmer family 🙂
For booking, you can reach Mr.Viswanath of Gurusparsh resort at 98238 56054.