Diveagar Homestay: Kulswami Guest House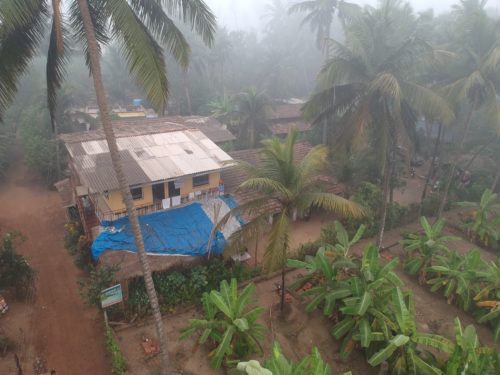 We frequently visit Diveagar as it provides the right combination of a reasonable distance from Pune and a clean beach. If you are looking for a beach destination (from Mumbai/Pune), then Diveagar is a great option. You can see my past posts on Diveagar here and here. Diveagar has many stay options, most of them in the form of lodges and small homestays. I used to be a regular at Maitreya Beach Resort, but for the past 3 visits, we have been staying at Kulswami Guest House.
To set the expectations right, Kulswami Guest house is a very basic homestay e.g. every room comes with an attached bath/toilet has a cot (with mattress and pillows) and a fan. That's it. No mirrors, no chairs/tables, no sofas, nothing extra. But, this is a GREAT place to stay. Every friend (and family) we have taken along have liked the place. So, with these expectations in place, why do i like this homestay so much?
Location: The homestay is a 1 min walk to the beach. Come out of the house. Walk for less than a min, cross the beach road and that's it, you are on the beach. They are at the far end of Diveagar, away from the crowded entrance with all the water sports. So, every time, any season, we have had the beach practically to ourselves. The approach street is a bit narrow (most streets in Diveagar are so), but no problem for any car. In fact, this street sometimes has a lot of vehicles coming on a weekend evening!
The House: The rooms are simple, but just what you want for a relaxed break. They have 4 rooms. They also have a small place in front of the house which is the "hangout" place. Practically, we have a meal, spend time there playing board games and it is time for the next meal! The rooms are very clean (even with such beach sand traffic).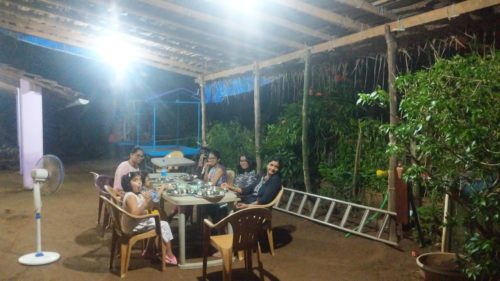 The Family: Rushikesh manages the place along with his parents and his sister. A simple and down to earth family. Very nice to chat with them and know more about the place. In fact, we became such good friends that when we were on a trip to Mangaon during Diwali, we drove over the 1 hr distance to wish them Happy Diwali. And, we were rewarded with an amazing platter of sweets and savouries made by Aunty 🙂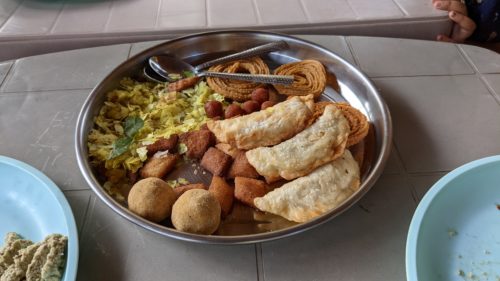 Food: Simply great food! Aunty (Hrushikesh's mom) is the main cook and she makes lovely food. They have a thali system for lunch and dinner and they customise it according to your interest. If you ask on the previous day, they prepare modaks too. We have it every time we visit there! Uncle makes the non-veg items and i have heard from friends (we are veg) that it is super tasty.
Price: The rooms cost around 1000 Rs a night (without food). Even if we are 2 families, we book all the 4 rooms (the first time, it was due to Corona safety, but we have continued the practice). The cost is not so much and you get the entire place for your group. Breakfast costs 30-70 rs (depending on the dish) and a lunch/dinner veg thali costs around 150 Rs (Again depends on the Sabji combination). Note: They allow only families (no bachelor grps).
To enquire about booking this place, you can reach out to Rushikesh at 70389 70403.
Given below is the route from Pune (Magarpatta) to Kulswami Guest House, Diveagar.