Grishneshwar Jyotirlinga Temple at Ellora, Aurangabad
Grishneshwar Temple in Ellora near Aurangabad is the 12th of the jyotirlingas. The temple has an interesting legend which you can read on the wiki page
.
A visit to this temple can be combined with a visit to either Ellora caves or Daulatabad fort. Try to go very early in the day as it gets crowded pretty much through the day. We planned to reach there by 7 am, but eventually reached at 10. We spent around 1.5 hrs in the queue, but didn't feel the strain much as it was constantly moving. The map below gives the route from Aurangabad railway station to the temple. A km after the daulatabad fort, the traffic has pass one-way through a narrow gate. The smart people that we have crowd up both sides on both sides of the gate leading to a very long pile-up of traffic which has to wait for a good samaritan to come out and bring some sense. I read on a blog about the same thing and that was written two years back. So, obviously people/administration in Aurangabad aren't interested in learning any lessons.
In front of the temple premises, you will find a beautiful structure, probably of an islamic origin. There are no nameboards on it and it is used as a garbage bin! But spend few minutes here, it is a beautiful structure. The temple as such has got tons of carvings. Unfortunately, no cameras are allowed inside in the main temple and hence i don't have any pic of the bottom half of the temple, which is painted in a mud-colour and stands out against the shikhara of the temple. If you walk to the back of the temple, you can have a good view of the top.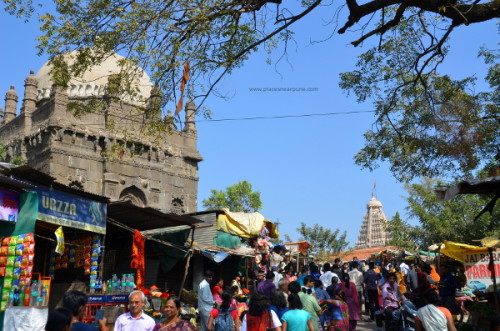 There are tons of shops around the temple, many eateries too. Ellora caves are around a km away towards aurangabad and hence can be easily combined.