Induri Fort in Talegaon
Induri fort is a relatively small fort constructed in the early 1700s by Sarsenapati Sardar Khanderao Dabhade. The fort is mostly in ruins and full of overgrown bushes, but it still is a good place to visit for an evening. Located in Talegaon on the banks of the Indrayani river, the evening scene from the fort is very picturesque. There is a temple of Goddess Kadjai inside the fort. This temple has been restored/painted and is in a good condition, regularly visited by the locals.
Location of Induri Fort: This fort is inside the Talegaon town. Once you drive inside, it is easy to miss the walls/entrance, but if you are coming from the highway across he bridge, you will see the fort walls as you cross the bridge. We went to this fort on a short road trip which included a short climb to Ghorwadeshwar Cave temple, Birla Ganapati and the Shirgaon Sai baba Temple. You can take the small diversion to this fort whenever you have around 30-45 minutes to spare when you are in this area. Given below are directions to this fort from Pune (Magarpatta). Talegaon is very close to the start of the old highway to Mumbai (close to Somatane Phata). If you want to avoid the toll, take the left before the expressway, go into Shirgaon village, go under the expressway and then join the old highway and continue to Talegaon!
You can drive right into the fort. You can park next to the temple. Once inside, walking through the bushes towards the river will take you to the walls of the fort. During the monsoon, this river and the greenery around should be beautiful.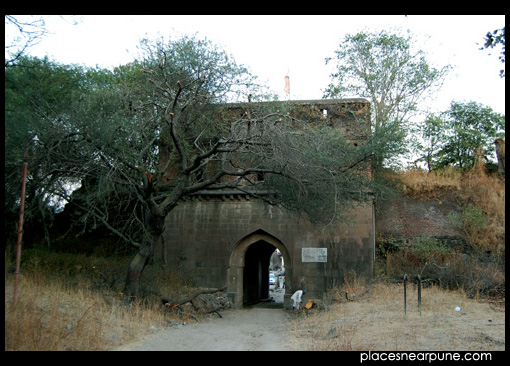 Even though in ruins, there is lot to explore inside the fort, albeit a bit adventurous considering the dense overgrowth. You can climb to the top of the entrance (watchtower) and even walk for a distance along the walls on the side of the entrance. The steps to the top are broken in many places and it would help to have a flashlight, at least the light from a mobile. We spent around half an hour exploring the ruins, in the hope of making archealogical discoveries 🙂
A good place for a short trip and would be even better, if combined with the other places nearby. You can come back to Pune by Chakan road/NH50 to make it a round trip.
There is lot of history associated with the fort and who else but Abhijit Rajadhyaksha to turn to for such details. Head over to his blog if you are curious to know about the history/significance of this fort.