Two monsoon road trips for the weekend
The monsoon has begun. If you are the kind who says, "Oh, No! It is raining", switch on the TV and watch a grandmother fight with her daughter-in-law. If you are the kind who says, "Wow! It is raining", then this is for you! The places around Pune take on an entirely different look during the months of June-August. A road trip is the best way to enjoy the best of the monsoon and if it rains while you are at it, the wow factor just increased. I have given the details of two must-try round trips. Both are one-day trips and would best be enjoyed if you can start early in the day (before 8 AM) to escape the city traffic. Each route also has a custom map created which will also give details on few interesting sights along the route
Route 1: Tamhini-Varandha Route. Click here to see a map of the route.
Total round trip distance: Approx 300 kms. Road condition: Average to potholed.
Tamhini and Varandha are the big bad boys of all ghat sections close to Pune. Notorious until a decade back for wayside robberies, they are still not advised for a late night crossing, if alone. The roads throughout are single laned and full of potholes. But, it is this rustiness that lets nature's true beauty stand out. You just cannot keep a count of the number of huge waterfalls you would see and every turn on the road would tempt you to stop for a photograph. Start early in the day, stop at Quick Bites for breakfast (just before the main tamhini Ghat section), cross Tamhini, get down to the Goa highway, take a left for Mahad, turn left towards Bhor (into Varandha Ghat). As you climb Varandha and take that one U-turn to the right to face the entire mountain range before you, it would be a sight to behold.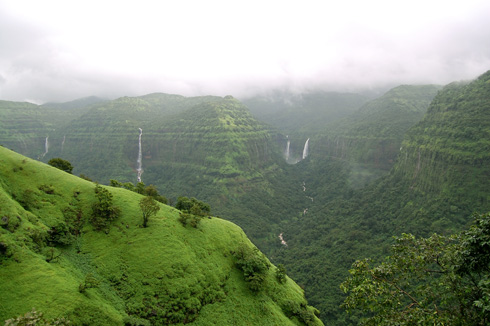 Route 2: Varandha-Mahabaleshwar Route. Click here to see a map of the route
Total round trip distance: Approx 310 kms. Road condition: Good to Average.
Travel the ruggedness of Varandha and then turn to the chaos of Mahableshwar. Go on the NH4, take the turn into Varandha Ghat (at Bhor) , enjoy the waterfalls throughout the Varandha stretch, once on the Goa highway, turn left and go towards the Poladpur Ghat. The poladpur ghat is route taken by mumbaiites to go to Mahabaleshwar. It is beautiful 40+ km long ghat offering great views of the mountain range on either side. The roads are decent with many straight sections, but the highlight of the ascent to mahabaleshwar from the other side are the numerous panoramas on view. Mahabaleshwar is of course famous for its viewpoints, but we will leave that to another trip just to Mahabaleshwar!