Potholes (Kund) in Nighoj village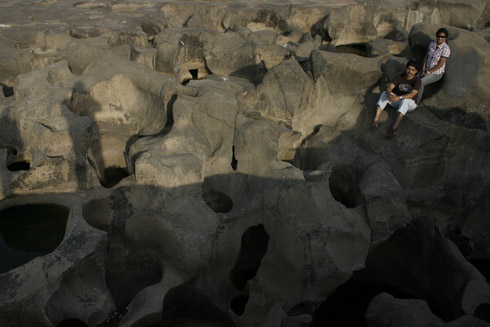 Nighoj village comes alive during Janmashtami when lakhs of devotees throng to witness a miracle, that of an earthern pot of water coming out of a well in the village. The rest of the year, it is just another sleepy village in the rural belt of Maharashtra. So, it is but obvious that the villagers find it surprising that tourists (mostly the ones with cameras on their necks and not the drunken ones who go for the waterfalls on the ghats) come to this village all year round.
The tourists are not interested in the village, but in a riverbed 3 kms away from the village. The river kukadi flows near the village. At one particular point , near a temple , the river forms a deep canyon which has resulted in huge pothole like structures carved in the rockbeds because of the natural erosive action of the water and the rocks carried by the river.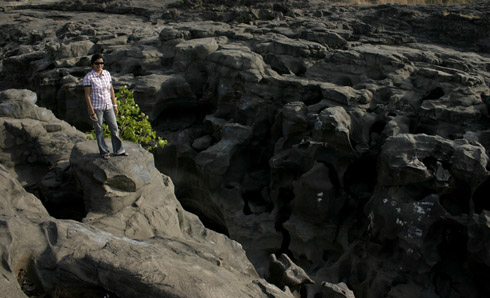 Route to Nighoj village from Pune: Go to the Nagar road, travel towards Ahmednagar. Cross Shikrapur, then Ranjangaon. If you have time, stop over at Ranjangaon and visit one of the Asthavinayak temples. After a while, you should see en exit for Shirur. Do not take that road into Shirur village. The Shirur bypass (the highway) goes towards the right. The moment you cross Shirur, you should cross a bridge over Khod river (Khodnadi or Ghodnadi). Immediately after the bridge, there is a junction where you take the first exit (left) which kind of looks like going back in the same direction you came from. Keep going on this road for around 18-19kms after which you will reach Nighoj. Just as you enter the village, you will see an arch on the left. Take the road under the arch and keep going for another 3 kms when you will hit a river (with a temple). This is the place you are looking for. In case you get lost within Nighoj, as for Kund (which is what the villagers call the potholes).
Summer is the best time to see these potholes as the water level goes down in the river. But i am sure that it will be equally impressive in early winter with many mini-waterfalls forming between the potholes. Have to plan a visit sometime in June/July for this.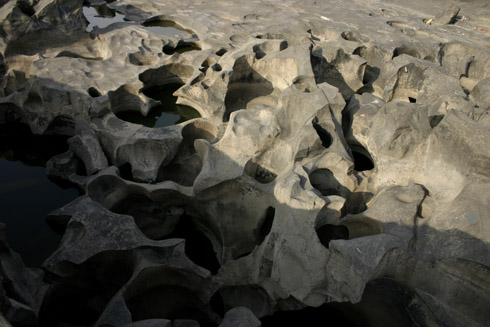 There is a temple on the banks – Kund Mahuli Devasthan. You can even buy stuff to offer to the god at the only shop at this place.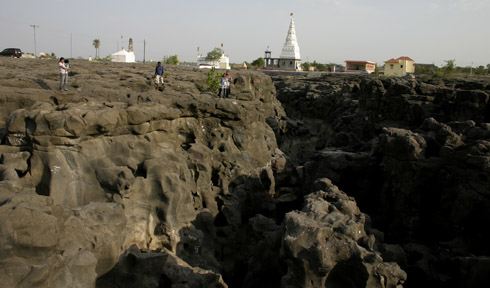 Akshara seemed to like the place a lot and wanted to play in the smaller potholes. In fact, in the first pic below, we had to watch our step and take care in getting to that place as there were deep crevasses on either side. But, Akshara was not satisfied with this location and kept on mentioning "keezha" ("down") asking her to take her further down!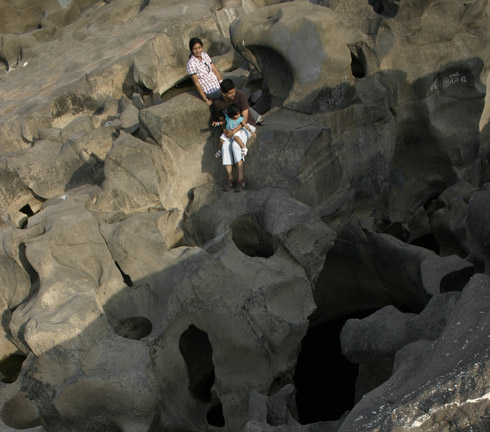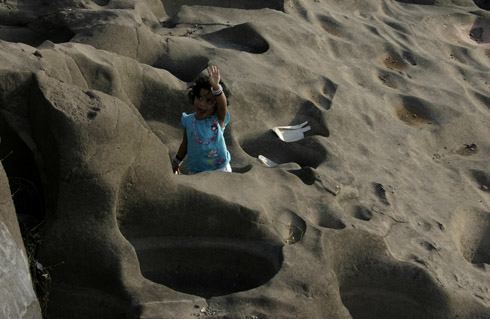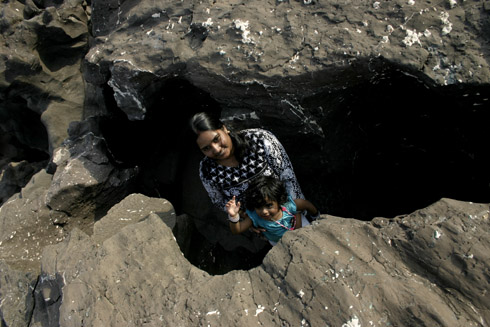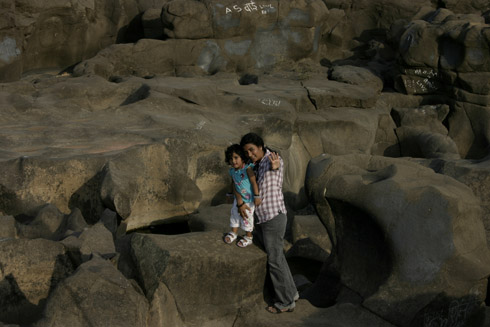 Some more photos..