Bamnoli Village near Satara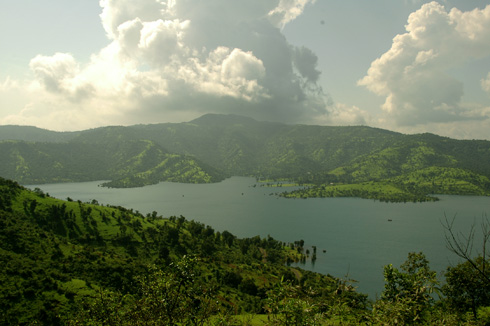 This is probably the easiest way to experience the lakes of switzerland, right in Maharashtra! Bamnoli village on the banks of the Shivsagar lake formed due to the Koyna dam is a small community of people, who mainly cater to the tourists wanting to visit Vasota fort, Nageshwar Shiv Temple and also Tapola.
Click here to see a bigger version of the above panorama
How to go to Bamnoli: Bamnoli lies at the end of the Kaas plateau. You have to go to Satara, cross the city and then take the right at the fork at the end of the city. The road at the left (through a tunner) would go to Thoseghar. Once on this road you have to drive for around 30 kms (crossing kaas lake and the beautiful flower beds) and then climb down to the shore of the Shivsagar lake. Though google maps doesnt show this road, this exists and is a good condition road, not the offroading type. As you descend the ghats onto Bamnoli, you are rewarded with views as comparable to european lake destination (provided you visit this place around the monsoons/winter).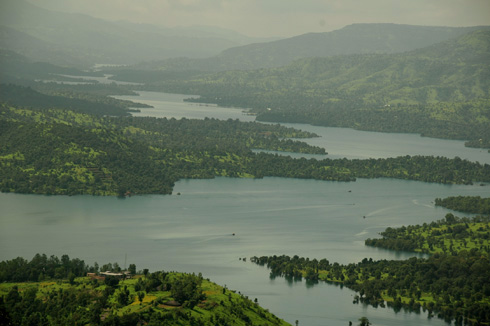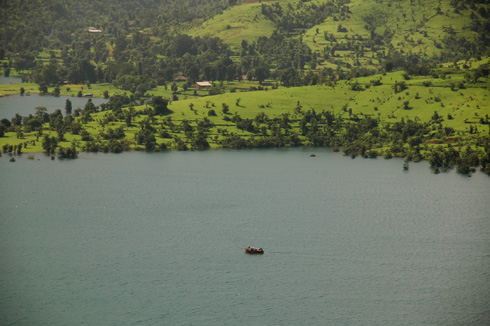 Once in Bamnoli, you can choose from lot of boating options. You can just go for a ride around the shivsagar lake. Or, go for a boat trip to Tapola, also known as mini kashmir. The rates are reasonable, provided you have a group of 5-6 people. Otherwise, you anyway have to pay the group price. If you have time, you can also go on a guided tour to Vasota fort or the famous nageshwar Shiv temple. The waters are right up to the roads inside the village. In fact, there are few buildings which are half-submerged. I guess the end of the village is defined by the amount of water in the backwaters. There is even a Bank of Baroda branch here. So, if you want to, you can even open an account here!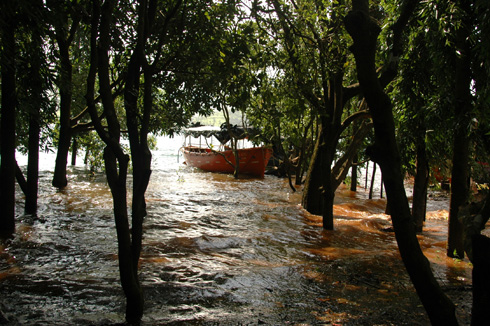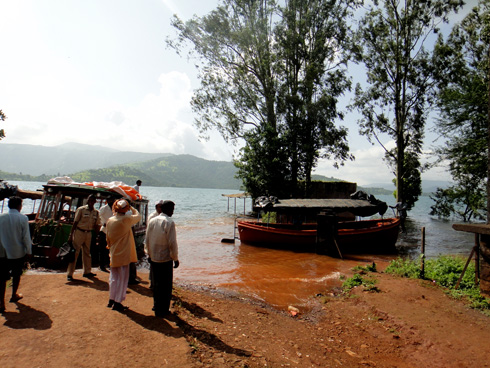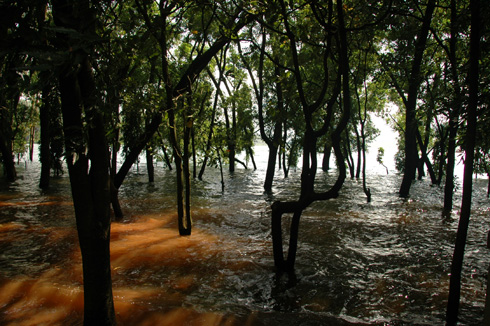 I was just looking around for stuff to photograph, when i noticed something big flying overhead. Thinking it to be a big bird, i followed it and then when it came into view, i realised that it was a big bat. Then i saw the hundreds of bats on the few trees next to the shore. They were there only on these few trees. I was lucky to see this as i would have just returned to my car if not for this low flying bat.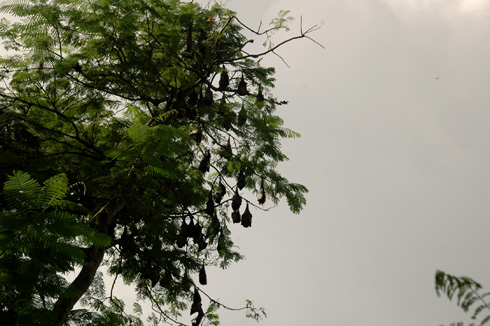 You can go to Bamnoli as a separate trip and then spend the day with a boating trip to Tapola or combine Bamnoli with a visit/drive to the Kaas plateau, as we did.